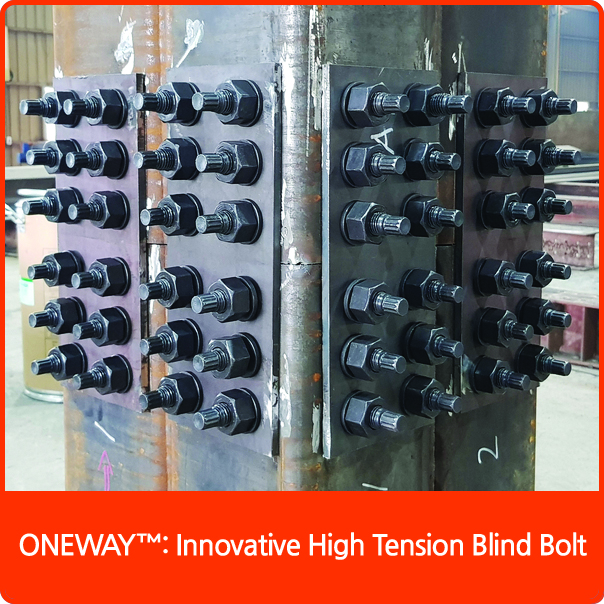 Bolting on connection for steel structure is well used in Architecture as an alternative solution for welding, and especially, high tension bolt is preferable for its advantages of the high strength, strong torque, and low stress concentration.

To fasten the bolt and nut for regular bolt, two workers or two hands are always needed to fix the one side or twist in reversed direction for each. However, for the case of Hollow Structural Section that has lack of access to the inner surface, or in the case of the worker cannot use his two hands, there is a special bolt to use for connection.

Gaurian has developed high tension bolt that can fasten to one side, which is ONEWAY™ blind bolt, to use for connection on Hollow Structural Section.

​▶ Component of ONEWAY™ Bolt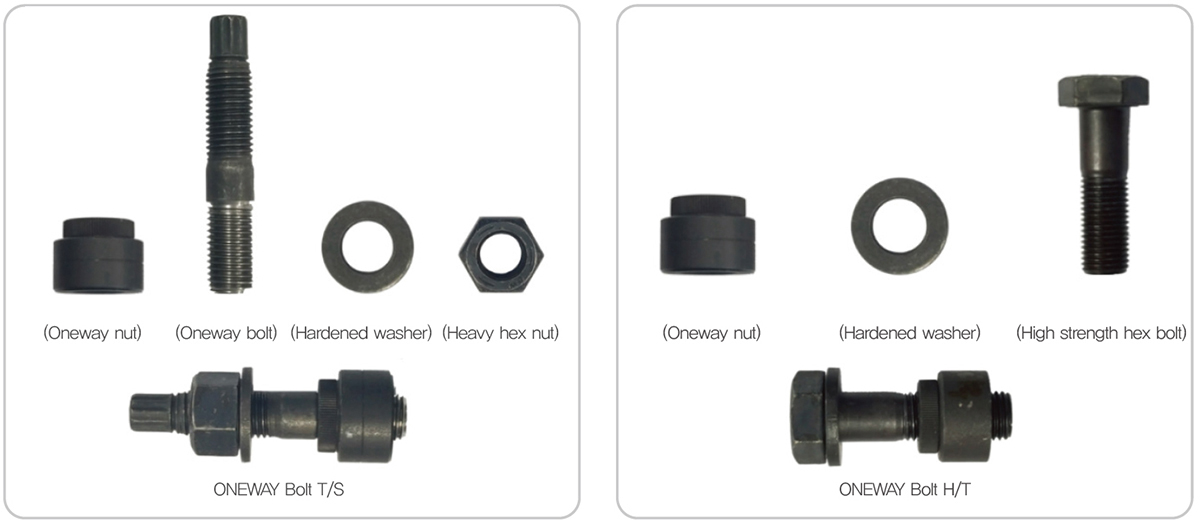 ▶ Installation Procedure for ONEWAY Bolt (T/C Type)

The fastening time of ONEWAY Bolt is about 15 seconds per place with its special tool.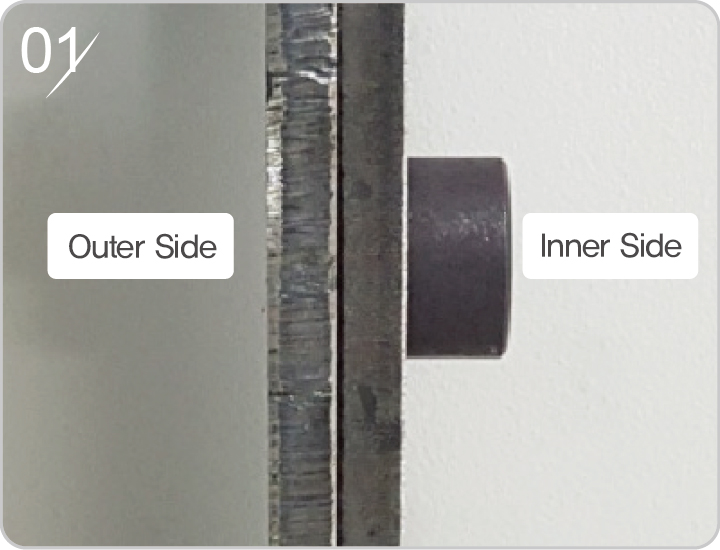 Install Internal Reinforcement Plate that Oneway nut recessed at the inner side of the column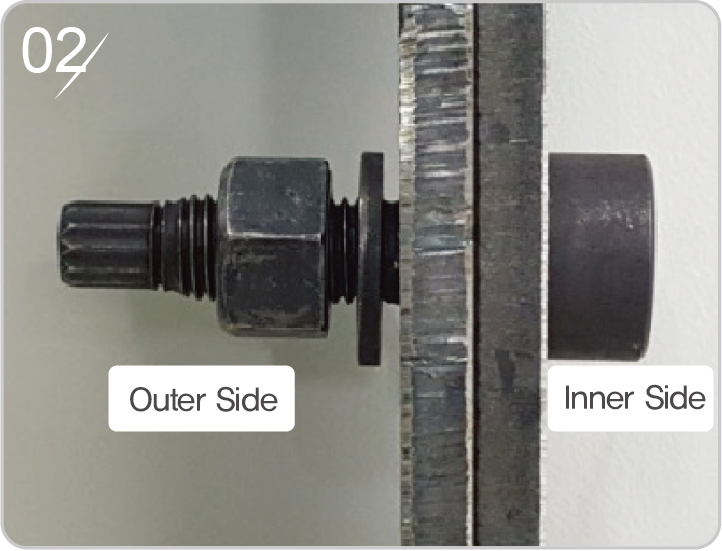 Semi-tight Oneway bolt, Hardened washer, and Heavy hex nut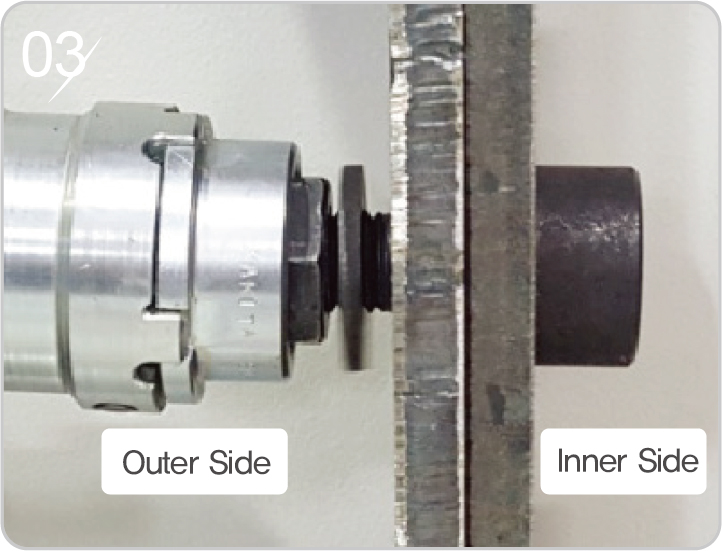 Fix the pin-tail in the inner socket using shear wrench, and then tight Heavy hex nut with outer socket and break the pin-tail by twisting.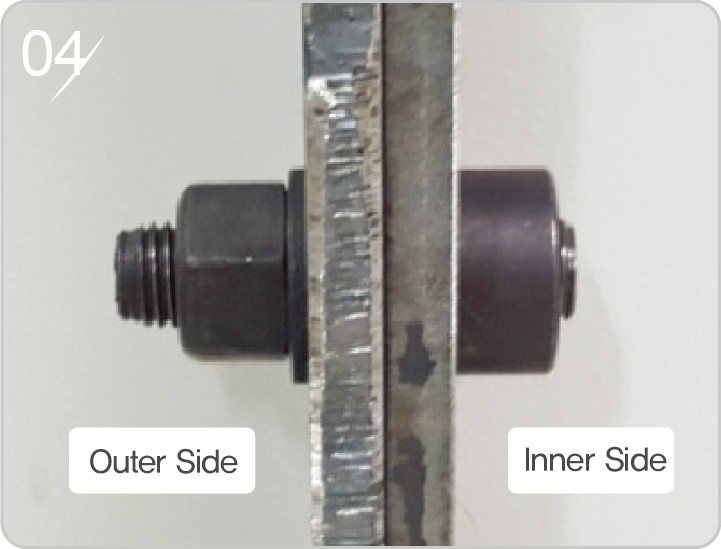 Visually confirmed that the fastening axial force is within the allowable range due to the breakage of the pin-tail.

▶ Type and Grade of ONEWAY Bolt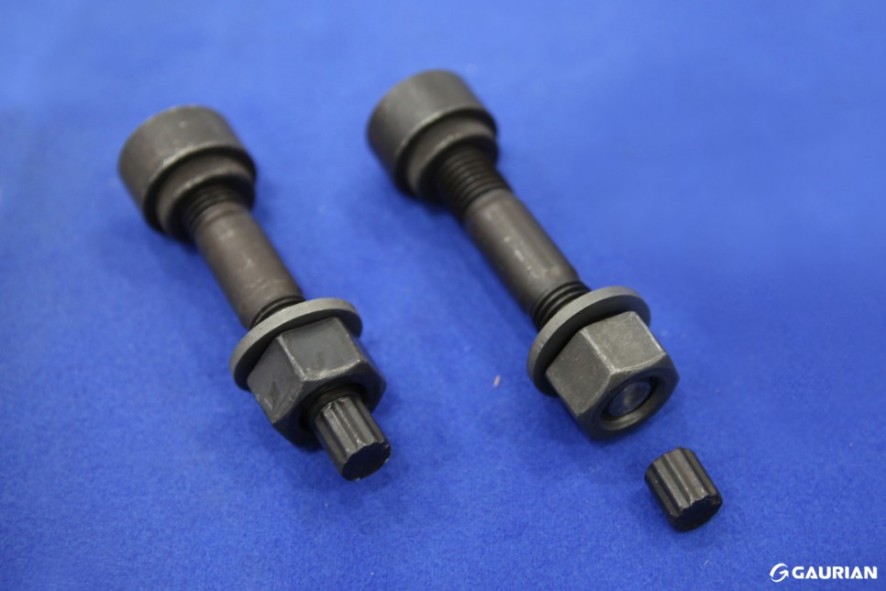 Component


ONEWAY bolt


ONEWAY nut


Nut


Washer


Mechanical Properties


S10T


F10


F10


F35


It corresponds to two types of 'Types According to Mechanical Properties' specified by KS B 1010.


It is assumed that the classification of each part of the set has mechanical property shown in the following table.


Although the torque coefficient value of the set is not specified, k=0.10~0.17 is preferable.

​

▶ Mechanical Property of ONEWAY Bolt

Grade By Mechanical Property


Yield Strength


N/㎟


Tensile Strength


N/㎟


Elongation


%


Cross Section Contraction


%


Fastening Force


Over 900


1,000~1,200


Over 14


Over 40

​


▶ Mechanical Property of ONEWAY Nut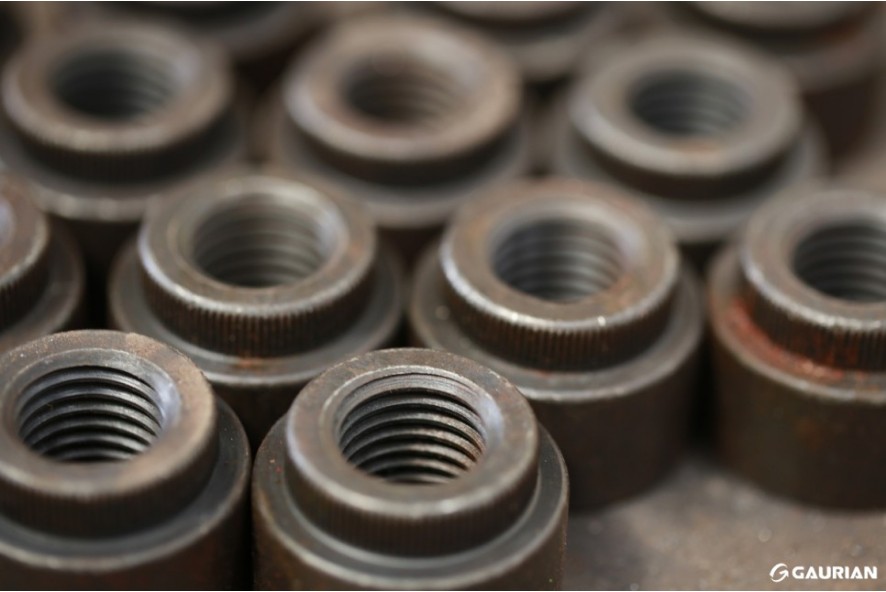 Classification


Tightening Force


Hardness


Guaranteed Load


Minimum


Maximum


F10


95 HRB


35 HRC


Same as the tensile load(minimum) of the bolt.


When the guaranteed load is applied, there should be no abnormality on nut, and after removing the load, nut should be able to be loosened by hand from the tested bolt. However, it can be used with wrench at the first 1/2 turn.




▶ Tightening Force for Set



Classification


M16


M20


M22


M24


M27


M30


Tightening Force


(kN)


100~133


172~207


212~256


247~298


322~388


394~474

Field Assembly Inspection
▶ For ONEWAY Bolt T/C, insocket of the share wrench makes the pin-tail rotated(left) and when the Heavy hex nut is rotated(right), it is fastened by preventing the rotation of Oneway nut.
→ Pin-tail rotation(left) : tightening force of Oneway nut has been occurred at the inside of the column(assurance method)
→ Heavy hex nut rotation(right) : tightening Heavy hex nut
​
▶ For fastening ONEWAY Bolt H/T, it is necessary to secure the specified axial force by rotating the head of High strength hex bolt using nut runner or torque wrench after semi-tightening.